In a span of just one week, Hillary Clinton made a series of statements that would have stirred the wrath of the media if a Republican had voiced them.
During an appearance at a March 14, 2016 MSNBC town hall event, she attempted to defend her vote for the invasion of Iraq while continuing to back her position on the toppling of Gaddafi in Libya, saying "Libya was a different kind of calculation … and we didn't lose a single person."
To that, Yahoo Politics said "she merely indicted her own incompetence and her callous indifference to the dead of Benghazi."
"Oh, for goodness … it's not going to happen. I'm not even answering that question," said Hillary in response to Univision debate moderator Jorge Ramos, who asked, "If you get indicted, will you drop out?"
Nice try, Hillary. Making light of the FBI investigation will not make it go away.
During CNN's March 12, Democrat town hall in St Louis, Hillary questioned where Bernie Sanders was when she was fighting for expanded health care as first lady in 1993 and 1994.
"I always get a little chuckle when I hear my opponent talking about doing it," she said, "Well, I don't know where he was when I was trying to get health care in '93 and '94, standing up the insurance companies, standing up against the drug companies."
Well, Madam Secretary, I always get a big laugh when I see that you have stepped in it again. Sanders attended an event with you to push health care reform in 1993, and there's a photo of him standing behind you at a Dec. 7, 1993 event at Dartmouth College. You even acknowledged that you were "grateful that Congressman Sanders could join us today." And you later sent him a photo with a hand-written thank you note.
Honest and trustworthy? Still think she's being truthful on Benghazi and those e-mails?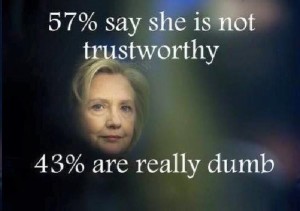 To add injury to insult, Hillary's communication's director later said the "photo proves our point, Hillary was out in front. Sanders was in the background." Pathetic.
During a nationally televised appearance in Columbus, Ohio last Sunday, she said "I'm the only candidate, which (sic) has a policy about how to bring economic opportunity, using clean renewable energy as the key, into our coal country. Because we are going to put a lot of coal miners and coal companies out of business, we're going to make it clear that we don't want to forget those people."
When Sen. Joe Manchin (D-W.Va), who has endorsed Hillary for president, took issue with her statement, she walked it back. "Simply put, I was mistaken by my remarks." Mistaken, Madam Secretary, or were you thinking about those environmentalists you cater to?  Incidentally, Peabody Coal announced it may file for Chapter 11, thanks to the Obama administration's effort to kill coal mining in the U.S.
Hillary is such a flawed individual. She cannot be our president.
If you would like a free subscription to kramerontheright, scroll to the bottom of the right hand column.