As the Obama's leave the White House, they made a couple of appearances that included more mixed messages on the recent Democrat loss of Hillary Clinton, who was supposed to continue the president's agenda as if it was his third term.
In his last meeting with the media on Friday, he seemed to blame the Russians, but he also attacked the media for its coverage of the WikiLeaks e-mails, even though the Media Research Center proved that the mainstream media failed to cover them. You'll remember that he recently insinuated that Hillary didn't campaign as diligently as he did, especially in Iowa.
In keeping with the tradition of opening the presser with a joke, the president didn't disappoint as he gave himself a pat on the back.
"Almost every country on Earth sees America as stronger and more respected today than they did eight years ago. ( LOL ) In other words, by so many measures, our country is stronger and more prosperous than when we started. It is a situation that I am proud to leave my successor, and it's thanks to the American people." – President Obama
Then there was Michelle Obama's appearance on the Oprah Winfrey show that will air on Monday. The woman who talked about "taking the high road," commenting that her husband campaigned on a promise of "hope," she now feels that in turning the White House over to Donald Trump, that's evaporated.
"We feel the difference now. See, now, we are feeling what not having hope feels like." – Michelle Obama
Interestingly, Winfrey offered, "Hey, it's going to be OK."
The problem with "hope" is that people tired of waiting. Some even gave him another four years to deliver on it. I believe Trump's theme of making America great again will not only prove to be memorable, but with proven results.
It was a fitting close for Michelle, who you will recall, in 2008, told a Wisconsin audience, "For the first time in my life I'm really proud of my country." Despite the efforts of the left-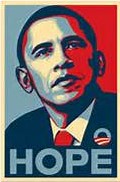 leaning media, like CNN's Jake Tapper, to interpret what she really meant, we got it right.
While the president leaves office with an acceptable favorability rating, voters who have long said that the country was on the wrong track, said they had enough, and Hillary was not their choice to get the country on track.
Since Trump's meeting with the president, he has spoken with him several times, and not in disparaging terms. While the Trump's and Obama's are ideologically opposed, I expect the best of behavior from both couples.
(If you would like a free subscription to kramerontheright, simply scroll to the bottom of the column at right.)