When Donald J. Trump descended on the escalator in New York's Trump Tower on June 15, 2015 to announce his candidacy for president of the United States, few people, in their wildest dreams, thought they would see him taking the oath of office today, but today The Trump Era officially begins.
"Making America Great Again" became his campaign slogan, but it was more than that – it was the beginning of a movement; a movement of common people who liked what he was saying, political correctness be damned, because it's what they have been thinking for years. And so the "movement" began.
He took on Hillary Clinton, who was considered a shoo-in, but first he faced-off with 16 other Republicans, most of whom were considered to be presidential timber. With his brash persona, he spoke his mind and insulted a number of people, including GOP icon Sen. John McCain, along the way, but nothing seemed to phase his supporters. Jeb Bush was the early predicted primary winner, but he and the others faded and dropped off the debate stage, one by one, until Trump became the last man standing.
His general election campaign against Clinton was a thing to behold. He crisscrossed the country with vigor, speaking at rallies of tens of thousands of people in several cities each day. All the while he was poking fun of Clinton over her lack of stamina.
Clinton shared her stage with the Obama's, the Biden's and a host of celebrities, from Katy Perry and Beyoncé' and LeBron James to various Hip Hop "artists" in an effort to "buy" votes. All to no avail. The "concert goers" were not "voting poll goers."
With no clear message and being tied to an Obama third term, she began attacking Trump and made the mistake of calling his supporters "deplorables."
The left tried to stop the Trump train with accusations of his assaulting women, but just as Clinton's supporters ignored her foreign policy failures and foreign contributions to the Clinton Foundation, Trump's followers were not to be distracted.
WikiLeaks released thousands of e-mails depicting what Clinton's own people thought of her campaign and her personally. While her fawning media didn't talk about the devastating content in the e-mails, they tried to tie the Russians to them and later claimed they helped the Trump campaign.
FBI Director James Comey announced that she carelessly handled classified material, while stating that no prosecutor would touch the case. Dems were delighted. But, just two days before the election, Comey revealed a new look at the case after learning of material on former Rep. Anthony Weiner's computer.
The day before Election Day, Trump made appearances before record crowds in Florida, Pennsylvania and New Hampshire before heading to Michigan, where residents waited in line to attend his 1 a.m. Election Day rally in Grand Rapids.
In the days leading up to Election Day, we kept hearing over and over from the media that there was no clear path for a Trump victory. But when the votes came in the doubts began to disappear. The Clinton campaign's cancellation of the fireworks over the Hudson River hinted a loss was in the cards. When Florida, North Carolina and Pennsylvania votes came in, it was all but over. Wisconsin and Michigan made the case. The media was wrong and they knew it.
Trump's stunning victory was aided by the Democrat Party's alienation of America's white working class of flyover country. He won in 200 counties that Obama had won. They elected him to change the self-serving ways of Old Washington, to drain the swamp.
In reality, The Trump Era began with his win over Clinton. He met with executives at United Technologies and Carrier, Ford and GM about keeping jobs in America with a pledge to make business in the U.S. more attractive, and he has met with leaders at Boeing and Lockheed Martin on costs of a new Air Force One and the F-35, respectively.
"It will be remembered as the day the 'Kick Me' sign was removed from America's back."
He has nominated perhaps the most capable group of individuals to his cabinet to carry out his defense, foreign policy and domestic programs, all prepared on day one to begin to make America great again. It will be remembered as the day the "Kick Me" sign was removed from America's back.
Look for profound change beyond the repeal and replacement of ObamaCare; border security, school choice, lower taxes and reversing job-killing, anti-business regulations to create an atmosphere for economic growth.
And perhaps just as important, look for Trump to soon nominate someone to replace Antonin Scalia on the Supreme Court and others to fill some 100 judicial vacancies.
While Trump moves forward, the sore losers on the left are making fools of themselves as they continue to try to delegitimize his victory.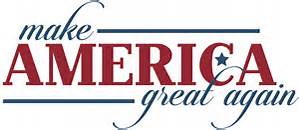 As you know, I wasn't initially a Trump supporter, but today I'm looking forward to The Trump Era, and hope you are too.
Be assured, Trump will not squander his election as did President Obama.
(If you would like a free subscription to kramerontheright, simply scroll to the bottom of the column at right.)