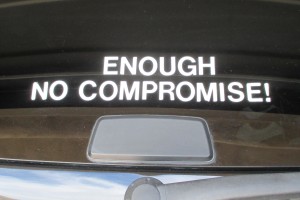 Having recently returned from a driving trip to the left coast, it was the last place I expected to get a favorable comment on the motto on the back window of my Jeep Grand Cherokee (left).
After all, we drove through the pass of the liberals' ugly failure monuments to Obama alternative energy –windmills, we learned that it is permissible there for ISIS to set up a table with literature, and we heard Gov. Jerry Brown say Sen. Ted Cruz was "unfit to be president" because he is a climate change denier.  How can this state be so out of it?
It was California that diverted more than 300 billion gallons of water away from farmers in the Central Valley and into the San Francisco Bay, and eventually the Pacific Ocean to increase allocations toward protecting the Delta smelt, a three-inch fish on the endangered species list.  Thousands of farm workers lost their jobs and hundreds of thousands of acres of fertile farmland went fallow. Rep. Nancy Pelosi failed to reverse the decision, and Governor Moonbeam is crying over the drought.
But, I digress.  Why No Compromise?  It goes back a number of years when I wrote an op-ed on the importance of standing on your principles, and I recalled Ronald Reagan's Cold War strategy – we win, they lose.
Then there's Margaret Thatcher's well-known quote on compromise. "If you set out to be liked, you would be prepared to compromise on anything at any time, and you would achieve nothing."
When did the measure of conservatism, of success, of progress require that we reach out to Democrats?
Colin Powell, who called himself a Republican, once said, "You've got to start making the compromises that arrive at a consensus and move the country forward."
"Consensus," according to Margaret Thatcher, "is the process of abandoning all beliefs, principles, values, and policies in search of something no one believes, but to which no one objects."
Bob Dole told us that "compromise isn't a bad word."  He lost.
John McCain compromised and gave us McCain-Feingold.  He joined the Gang of Eight on immigration which went nowhere.  While running for president he told us, "I can reach out to Democrats."  He lost.
Mitt Romney reminded us how he worked with the Democrats in Massachusetts. He lost.
Republicans won in the mid-terms because the people rejected the policies of President Obama.  Why?  Why should we have to compromise with the losers?
Ted Cruz has said he would compromise with anyone, even Martians, if they're willing to cut spending and reduce the debt.  He's not likely to get any takers.
Personally, I like Andrew Carnegie's view.  "Compromise is usually a sign of weakness, or an admission of defeat.  Strong men don't compromise, it is said, and principles should never be compromised."