Here are my observations on items in the news.
 TWITTER CENSORSHIP – On Monday, Twitter blocked a video of Rep. Marsha Blackburn (R-TN) announcing her plan to run for the soon to be vacated Senate seat of Sen. Bob Corker. The social media giant took exception to the congresswoman's opposition to selling baby parts, claiming her remark is "inflammatory," according to Ken Klukowski, writing in Breitbart.
The reference to baby parts is sourced from Center for Medical Progress-released videos of Plant Parenthood personnel boasting about their collection of body parts from unborn children to sell for medical research.
But yesterday, Twitter caved after a public outcry and reversed its decision.  Today, in my small way, I am providing this outlet for Representative Blackburn's video announcement for my readers who are not on Twitter.   Click here to see her two-and-a-half-minute message in which she again states her view that the Republican Senate "drives her nuts."
MUCH HAS BEEN SAID ABOUT THE PRESIDENT'S INFIGHTING, from his earlier comments regarding Attorney General Jeff Sessions, Majority Leader Sen. Mitch McConnell, Secretary of State Rex Tillerson, Senators Jeff Flake and John McCain and, most recently the back and forth with Sen. Bob Corker. It's almost as if people are just waking up and realizing that Donald Trump – the unpredictable outsider and "Tweetmaster" – has won the presidency. Remember, he defeated 16 Republican candidates and "shoo-in" Hillary Clinton with a record of pointed debate remarks and Tweets.
"The Constitution doesn't have a clause in it for removal (of a president) by vote of the media, or because his political opponents don't like him," wrote Charlie Martin in PJ Media in August.
DON'T WORRY ABOUT CORKER'S FUTURE – Sen. Bob Corker's wealth has been estimated between $45 and $50 million.
DID YOU NOTICE that it took Hillary Clinton five days to respond to the sexual assault charges levelled at her friend and donor Harvey Weinstein, while she is telling those who will listen on her book tour that sexism was one of the reasons she lost the election? Now she expects us to believe she was "shocked" to learn of the Weinstein charges.  Tell us "What Happened," Hillary.
DEMOCRAT STRATEGIST JESSICA TARLOV, ever the liberal apologist,  asked how we could possibly believe that Meryl Streep was aware of Harvey Weinstein's sexual activities?  Yes, Jessica, everyone in the Hollywood cesspool was aware of them.
THE BORDER WALL – The president is determined to press ahead with the wall along our southern border. A number of proposed walls/fences are being constructed for consideration. Only 650-miles of the 2,000-mile-long Mexican border are now fenced.
To complete or extend the wall and fence, the federal government would have to buy or condemn about 4,900 parcels of land, a process that could lead to years of court battles, according to THE WEEK Magazine. A 2006 federal attempt to condemn 300 border parcels still has 85 cases unsettled.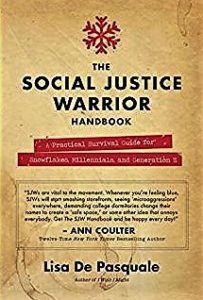 IF YOU'RE LOOKING FOR SOME LAUGHS, I highly recommend Lisa De Pasquale's Social Justice Warrior Handbook, a practical survival guide to Snowflakes, Millennials and Generation Z.