Here are some observations on items in the news.
FROM JIM TREACHER comes this Tweet: "Modern journalism is all about deciding which facts the public shouldn't know because they might reflect badly on Democrats."
AND IF YOU ARE AN MSNBC VIEWER, here's an example of the point Treacher is making. Sen. Bob Menendez (D-NJ) is returning to his work in the senate after spending two months away from his office, but if you get your news from MSNBC, you probably wouldn't know where he has been.
He's been on trial on bribery and corruption charges for weeks, and yesterday he survived a hung jury. Far left MSNBC host Lawrence O'Donnell freely admits that he hasn't mentioned the trial once it began. 'Why?" you ask.
Appearing on the Dom Giordano Program, a local CBS production in Philadelphia, O'Donnell admitted that the Menendez story probably merited his coverage, but blamed it on President Trump. "If we had anyone else in the White House, if we had any other president in the White House, any other of the Republicans that were running for president, never mind, have Hillary Clinton as president, the Menendez trial would be a very big item in all of our coverage."
"If I may be so bold, I would suggest that they're (Democrats) allowed to 'duck' the Menendez corruption trial because (I) and (my) colleagues have made a conscious decision not to talk about it, "O'Donnell said.
Clearly, anti-Trumper O'Donnell is a narcissist, who claims to be a journalist.
Except for an occasional mention on CNN, there was precisely no coverage of the trial on the major networks' news programs, according to Jazz Shaw at Twitchy.
If the president is mentally unstable, as ABC, CBS, NBC/MSNBC and CNN hosts and reporters have all shamelessly intimated since he took office, they are certainly not qualified to call themselves journalists.
ANOTHER SO-CALLED JOURNALIST, David Horsey, a Los Angeles Times columnist and an anti-Trumper, who inexcusably described White House Press Secretary Sarah Huckabee Sanders as looking "more like a slightly chunky soccer mom," made a reference to the Fox News lineup of blond Barbie dolls in short, tight skirts. He commented that "the president has generally exhibited a preference for sleek beauties with long legs and stiletto heels to represent his interests and act as his arm candy."
In response, Fox's Martha MacCallum, who hosts the highly-rated The Story, said, "We're experienced journalists and reporters, most of us have been at it a long time. Between us, we've worked at all the networks and most prominent newspapers and publications. We're proud that our lineup is 'stocked' with some of the sharpest, brightest women in the business. Our success is not about hair color or skirts."
HATS OFF TO KIMBERLY STRASSEL at The Wall Street Journal for crediting California representatives for their willingness to go on the offense and throw SALT, the state and local tax deduction, issue in Governor Brown's face. The left-coast state has the heaviest tax burden in the country and only just implemented a punishing new 12-cent-a-gallon-increase in its gasoline tax.
"Why punish the rest of the nation because California is stupid," said Rep. Duncan Hunter.
"The idea of Jerry Brown and Nancy Pelosi, who have spent entire careers making it more expensive to live, work and do business in California lecturing us on taxes is pretty unbelievable," Ken Calvert, dean of the California delegation told Strassel.
"Many Republicans have become so shy of the left's class-warfare arguments, they've forgotten the best way to win on taxes (and other issues) is to enter the debate head-on," wrote Strassel, "And it's a model all Republicans could benefit from as the tax fight rolls on."
 ISN'T IT INTERESTING how the long-ignored sexual harassment history of Democrats Bill Clinton, Ted Kennedy and Chris Dodd are now surfacing in view of the charges against Alabama Republican senatorial candidate Roy Moore and now Democrat Sen. Al Franken?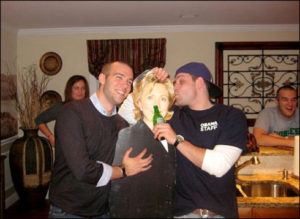 Even a 2008 photo (shown at left) of one of former President Obama's chief speechwriter, Jon Favreau, groping a cardboard cutout of Hillary Clinton, came to light again. The photo showing Favreau with his hand on Clinton's breast, while an unidentified friend was pretending to pour a beer in her mouth, first appeared in The Washington Post's 44 blog.
Draining the Washington swamp is a slow process.